Creating a Photo Montage in Xara X
by Ross Macintosh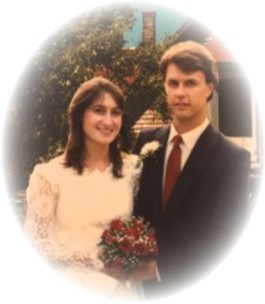 One of the things I like most about Xara X is how incredibly versatile the program is. Most users are familiar with how flexible its vector drawing tools are. The program can be used to edit photos and yet few users turn to Xara X first when they need to work with bitmaps. For this mini-tutorial I want to show how simply and effectively Xara X can edit photos. The techniques I use are very basic. If you haven't tried editing photos in Xara X before, I encourage you to try. It is fun! Use images of your choice with the techniques discussed here to create your own photo montages.

Below is the image I created. It is a composite of two photos. The young couple is yours truly and my bride on our wedding day 14 years ago. She hasn't divorced me yet. The building is an abandoned house on beautiful

Prince Edward Island (Canada's smallest Province).

I thought the juxtaposition of the newlyweds and the rotting home was interesting. Young couples in love have such a infectiously positive outlook on life - they intend to make the most of whatever life deals them. They're blind to the decay around them.

I called the image 'Canadian Gothic' in reference to the well-known painting by Grant Wood: American Gothic. Wood's painting is perhaps the most famous American painting of a couple. By the way, most people think of them as a married couple although Wood's subjects were actually a father and daughter.