In this issue:
Moving On?
It's getting harder and harder to get any thing done with all the chaos and confusion taking place around the world. Even in New Mexico, the news is hard to avoid, and all the senseless acts taking place on a daily basis are a real energy drain. Don't you agree?
Even the Xara Conference seems to lack the creative energy and enthusiasm that made it such a hot venue during the spring and summer months. I know it will take a while for things to get back more or less to normal. But at least, like many of you readers, I have Xara to take my mind off the painful events, and for a while, I can indulge in something creative and positive. Nothing is going to erase the tragic and senseless events of 11 September, but at least I can lose myself for a few hours in creating something other than chaos. And if nothing else, it's a good release and a way to work through my feelings.
The Xara X Online Manual continues with installment #16. In this issue we'll resume our look at bitmaps, specifically the various bitmap formats supported by Xara as well as learn how to export bitmap images. And We will answer the question asked by most new Xara users, "How do I get rid of the white background?" Answer, it's easy!
The not so new TIP of the Week is on page 3 and about to start a new page. But your editor (who knows who that is) can always use a few more good tips. If you have a favorite tip, send it along. If I use it, I will attribute the tip to you and immortalize you in the TIP of the Week page.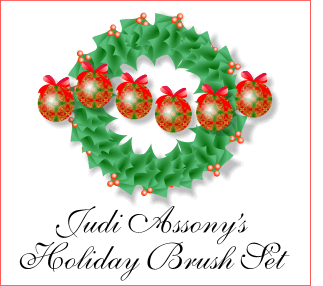 Judi Assony has created a Holly Leaf brush, just in time for your holiday needs, and a set of lovely Christmas Ornaments which you can use with the Holly Brush to make your own Christmas cards or seasonal web site images. You'll find the Holly Brush and the Christmas ornaments in the Fills and Brushes page.
Nothing new in the Shareware Page this month, but if you are a new user, or have not been there for a while, have a look see. There is a ton of really cool Xara helpers there waiting for a good home.
The Featured Artist for November is Valery Kouleshov, another amazing artist from Russia. Valery is a multiple award winner in the Corel World Design Contest and when you see his incredible images you'll see why.
The November Xara X tutorial was prompted by many of your requests to cover creating rollover buttons and a button bar in Xara X. The tutorial shows in great detail all the necessary steps. An added mini-tutorial shows a trick for creating non rectangular buttons in what your editor calls an organic interface. Lots of good information there. Check it out.
The November Guest Tutorial #9 was prepared by Eric Bramhill and shows you an interesting technique for bitmap tracing a photo, then adding bevels to the pieces to create what looks like an oil painting layered on with a palette knife.
And speaking of Featured Artists. December's Featured Artist will be all of you . Your editor wishes to thank all of you who sent in images for the group show. You do me proud. It will be a terrific showcase of talent and I can't wait for you all to see it.
If you have a web site you've created with Xara, let your editor (yep, old you know who) know and we'll add your site to the list of sites in the Xara Links page.
And last but not least, your editor is always looking for new talent to showcase in the XaraXone Featured Artist page. If we don't get some more talented folks to step forward, your editor is going to have to make a guest appearance.
If you think you have the right stuff (10-12 really cool images—created with Xara, or created mostly with Xara), drop me a line and if possible send me an URL where I can see your images. The world is waiting to see your images, so don't be shy. OK?