In this issue:
Covered in this month's Workbook
Covered in this month's Workbook (Textures Galore!)
The September Xara X tutorial may be a bit slippery for some and cleansing for others as it is a bar of soap complete with shiny tile and bubbles. Mark Larmand shows off his technique for creating 3D plastic extruded letters in this month's Guest Tutorial. The September Featured Artist Gallery is none other than Kane Rogers, an art director and illustrator who creates hyper-realistic automobile illustrations and posters.
I am accepting your contributions (Tips, Brushes, Templates, stuff like that). I'm starting to run out of ideas and could use your input. If your site has Xara graphics and is not listed, send me your link and a brief description of how you have used Xara on your site.
[Editorial Testimonial] Xara ScreenMaker 3D—A Real Money Maker!
Create 3D Screen savers in seconds. That is what the promo on the Xara website says. And you know what? It's true. This fun little application goes for a mere $14.95 US and in my humble opinion, is worth every penny. You can choose from a variety of text based screen savers (all of which can be modified to include your own personalized message) or create an endless variety of rotating cube screen savers like the one shown on the left.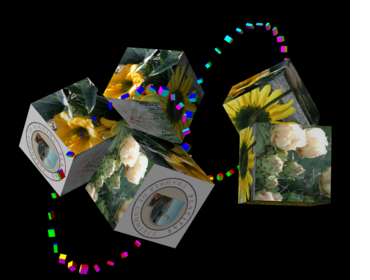 ScreenMaker 3D accepts a wide variety of image formats, even AVI movies.
Xara says, "It's the perfect way to share messages or images with friends, family or colleagues - from family photo screen savers to business screen savers with corporate logos."
But here is Gary's get-rich-quick scheme for the day. The screen saver, shown here, was designed for my local Chamber of Commerce. I created a CD disc of 6 screen savers for each member of the Chamber and the Chamber is buying the discs from me to give to the members. I have also done this with my real estate client so they can have their logo (designed by you know who) along with photos of the community, displaying on their screens when a computer is not in use. They are paying me too. So if you work for a company, create a series of screen savers with the company logo, and five other images (like the company president and/or your boss—each cube has six sides and can display a separate image on each side) and if they won't pay for the screen savers, perhaps they'll promote you! After all, you're promoting them. I think there is BIG money to be made here.
Xara ScreenMaker 3D is only $14.95 US! (there is a currency converter on the site). To download a free trial copy, or to cut to the chase and buy the program, visit , www.xara.com/products/screenmaker3d/.
---
The Xara Tutorials, On-line Xara X Manual
and WebXealot CD. The perfect mid-summer night's gift!
Tens of you have asked your editor (still me hanging in there—by a thread) over the years for a CD containing the Xara Tutorials, WebXealots, and On-line Xara X Manual. Well thanks to Grant E. Remington, all this (and more) is available on a CD in Adobe PDF (Adobe's Portable Document File) file format for easy viewing and printing! (Hold your applause, please).
Grant has provided an Adobe Acrobat reader on the CD for those of you who may not have one, for viewing the PDF files. Xara Ltd. has included a folder of 19 cool fonts, not available on the Xara X CD, as well as trial copies of Xara Webstyle and Xara 3D 4. If you have never tried Xara 3D 4 you are in for a treat with this incredibly easy to use 3D and animation creation application.
So where do you order your CD and what is it going to cost? Click Here to go to Grant's site to place your order. The price for the CD which includes everything; Xara Tutorials from 1996 - 2001, WebXealots 1-35, including #s 16-35 the on-line Xara X manual, the fonts, the trial versions, the Acrobat reader, the whole enchilada, is $20.00 US which includes free shipping in the USA. The cost outside the USA and Canada is $22.00 US and also included shipping. A great price if I do say so myself.
For a small additional fee, Grant can print your own label design if you decide that you don't like all the worms featured on my handsome label design. So don't delay, order your CD today! And order several for your friends and relatives!
Thanks to all of you who have already ordered (and received) your copies. If you have not ordered yours, as they say in the TV commercials, there will never be a better time to buy!