DEREK COOPER
MARCH 2007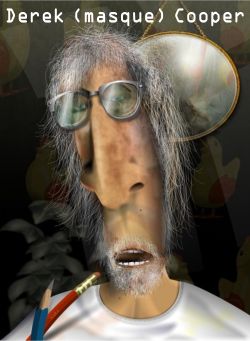 I (still) live in Birmingham UK with my family and pets where I scratch a living as a graphic artist with periods of time spent in Javea, Spain to get out of the drizzle. In truth I prefer English weather to the Spanish variety as we at least have some, rather than just hot. Hot is nice for a while but gets a bit samey.
This is a little collection of drawings, nothing you won't have seen before if you're a TalkGraphics regular, but the only criteria for me was to find something I'm not too ashamed of that had been produced since my last, (first), time as 'artist of the month' and which required the minimum amount of finishing off.
I enjoy drawing very much, both with traditional tools and using Xtreme but I try not to take myself too seriously; I'm not producing 'Art' here, I just want to enjoy myself until such time as I get bored with the picture or at least until I feel I've done enough to have got an idea down, which is why so many drawings I looked at for this show needed 'finishing off' a little.
Most of the time I like to just sit down and start drawing what's in front of me, whatever catches my eye around the house which is where I find most of the objects I draw, which is handy when your using a computer. I'll draw on 'traditional pub media' such as beer mats or napkins when out, which is where my 'man in a pub' drawing originated and again these are always very unfinished rough sketches which I'll scan as the basis for a drawing on the PC if they have promise. I'm also taking a lot more photographs than I have done for a long time as I'm enjoying the instant results you can obtain with a digital camera.
Sometimes I'll sketch straight into Xtreme and develop the resulting mess into something with a little luck and uncharacteristic perseverance. Drawing in Xtreme is obviously a different discipline to using a pencil on paper but the way a very rough sketch is gradually transformed into a finished piece of work is constantly fascinating and the results often surprising and difficult to predict.
I'm a bit of a recycler so I reuse various bits of drawing, for instance the wheels on the only two cars I've ever drawn are the same and various other bits and pieces of detail are reused but that's just one of the advantages of using a computer to draw as it saves having to repeat some of the repetitive tedious detail and so hopefully allows you to concentrate on the good bits.
To end I'll reiterate what I said last time I was Artist of the Month:
I hope you enjoy looking at and get something from this little collection of pictures. If it inspires anyone to go away and have a go and / or do better, then that justifies them being posted here…
I think that was it, more or less.
Derek