May 2005
Featured Artist
Javier Aller
My name is Javier Aller. I'm 49 years old, my date of birth is the 22nd of March 1956, and I have been a great motor sport fan since 1971.
About one and a half years ago I came across Xara, and I started with small projects (logos, tyres, etc.) As time went by, I realized the software offered endless possibilities, provided that I had enough patience.
Usually, to begin working with Xara, I choose a picture and then I draw it in a way that the final result is cleaner and neater than the original. This is very noticeable, above all, with images that don't come from digital files such as scans from prints.
Nevertheless, there is a lot of research work involved in each project including finding out about logos, images and other details of the smaller areas so that these can be drawn faithfully to the original.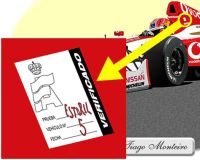 Although many times we cannot see all the small details in the print with the naked eye, all the labels, wheel manufacturer information—even a tiny screw, is drawn so that if we zoom into the image in the Xara file to 2000%, the fine details are there. As an example of this, I attach a detail of the "verificado" (verified) sticker from Tiago Monteiro's car in the Estoril (Portugal) race from the World Series by Nissan in 2004.
—Javier Aller
Gijon, Spain