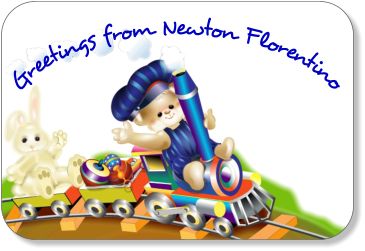 AUGUST 2007
Allow me to introduce myself, my name is Newton Florentino. I was born in Sao Paulo, Brazil and developed an interest in art from a very early age. I guess you could say that I have been an artist since the time in which I could firmly grip a pencil in my hand to begin scribbling on any piece of paper in which I could find. Over the years I have continued to sustain the same ideals however instead of using the pencil, I know use a digitalized tablet for commercial art and a canvas for fine arts.
During my twenties, I started working as a commercial illustrator for several advertising agencies. At that time, tempera (Gouache) and pastels were the basic media for doing such illustrations.
I can truthfully say, that I was never satisfied with the ordinary. I always have and continue to improve my work by purchasing books on the master painters, to learn more about both the new and old techniques.
I moved to New York in 1979 and I currently reside in Bayside, Queens, one of the boroughs of New York City. When I first arrived, I started looking for a job in commercial illustration and showed my portfolio to many advertising agencies. I had tempera (Gouache) illustrations in my portfolio. While the art directors loved my portfolio, they told me that here in New York, illustration for advertising was done through the use of felt-tipped Magic Markers.
In my thirties, I discovered that the only way to stay in the business was to learn how to illustrate with these new tools (the felt tipped pens). I had to learn how to blend one color into another while determining the best kind of paper to use so the markers wouldn't bleed. I had to be sure that my illustrations would be crisp and not overworked.
I spent the next couple of months revising my portfolio using the new media. I mastered the medium and after one year I was giving classes on how to illustrate with magic markers!
I used to do the whole comp (advertising layouts were referred to as comps, an abbriviation for comprehensives) by hand from the illustration to the lettering. But after 1988 with the introduction of computers, the art directors just had me do the illustrations, the layouts were composed on the computer.
I than learned to use Freehand, Adobe Illustrator and Photoshop. For many years, these programs worked OK, however, I was never satisfied with these programs ability to create specific effects. Therefore, I constantly found myself having to jump from one program to another in an attempt to gain the desired effect.
Then in 2000, while surfing through the Internet I found XARA X. I don't think I have to tell you how happy this discovery made m!. Now I find myself using this program from the initial sketch to the final illustration. It gives me all the tools I need in order to complete a successful job, although I still use magic markers sometimes for my initial sketch before completing the job on the computer.
—Newton Florentino
Featured Artist February 2003