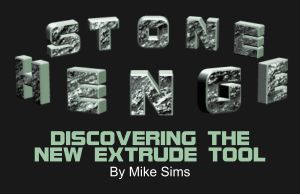 Guest Tutorial #79
©2008 Mike Sims
This tutorial is based on the use of the new Extrude Tool introduced in the recent release of Xara Xtreme Pro version 4. This is Xara's first release to integrate the 3D code from its popular Xara 3D application into Xara Xtreme. The integration is not without its idiosyncrasies, but is nevertheless a welcome addition to the capabilities of Xara Xtreme and Xara Xtreme Pro, and as this tutorial shows, it can achieve 3D results that Xara 3D itself cannot manage.
The image shown above makes no pretense to being art, but is primarily a proof of concept, and shows 3D extruded text arranged in a horizontal ring. I have tried for many months to make something similar in Xara 3D and have given up, but it turns out to be surprisingly straightforward in the new Xara Xtreme and Xara Xtreme Pro.
If you have not upgraded or downloaded the trial version, you can go to the Xara.com Download page by clicking the link below the start tutorial arrow.

You are probably aware of Xara Xtreme but have you downloaded Xara Xtreme Pro? All the tutorials in this Workbook are done in Xtreme Pro, so if you don't have it, get it now.


Click here to download your FREE trial version
or to upgrade to Xara Xtreme Pro today!
©2008 Gary W. Priester, All rights reserved. No portion of this publication,
including the illustrations contained within, may be reproduced in any way
without the express written permission of the author.