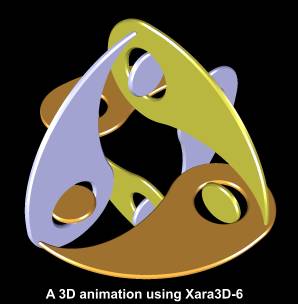 Guest Tutorial #75
©2007 Mike Sims
This tutorial shows how to create an animation in three dimensions of the above image, and makes use of both Xara Xtreme and Xara 3D. There are several stages to this process, summarized as follows:
We create the quite simple shapes in Xara Xtreme, which will be exported as a single shape to Xara 3D. Sizing pixels will be necessary to ensure correct sizing and positioning within Xara3D.

We import the shape from Xara Xtreme to Xara 3D three times, and use the Rotate2 animation to move the shapes in 3D space. This Rotate2 animation will be paused to freeze the shapes in their correct orientations. Details such as colour, extrusion and bevels will also be applied at this stage. This will result in Page 1.

We copy the Page 1 objects into 11 new pages. Then, starting with Page 2:

We rotate the original Xara Xtreme shape a few degrees, then import it into Xara 3D three times to replace each of the three objects in the current Page. Then we select the next page.

We repeat step 4 until we are back at Page 1. At this point we can hold down the Page Down key to watch the full animation as Xara3D steps through each page while maintaining the objects in the frozen 3D positions the Rotate2 animation gave them.

We export an animated gif from Xara3D, and import it into XaraXtreme, edit out the extraneous frames, and re-export the finished animated gif.

We sit back and pat ourselves on the back at a job well done!

You are probably aware of Xara Xtreme but have you downloaded Xara Xtreme Pro? All the tutorials in this Workbook are done in Xtreme Pro, so if you don't have it, get it now.


Click here to download your FREE trial version
or to upgrade to Xara Xtreme Pro today!
©2007 Gary W. Priester, All rights reserved. No portion of this publication,
including the illustrations contained within, may be reproduced in any way
without the express written permission of the author.