Guest Tutorial #22 Creating a Harmonious Palette with Xara X and X-Pal.
by Brian Etherington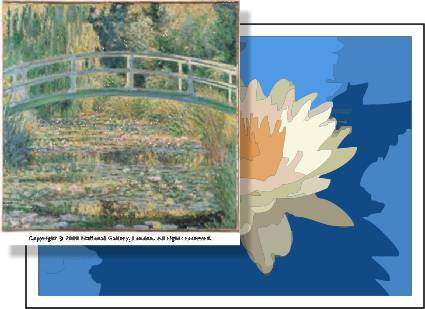 Finding the right colors for your image comes naturally for some people. Monet, for example had the gift. But what can you do if you find color intimidating? Well, an easy way to pick a palette of the right colors is to use XPal 3.3's Harmonious Colors feature. In this very brief tutorial (Gary asked me to write it at the eleventh hour!) we will sample a thumbnail image of a Claude Monet painting to create a palette of harmonious color that we can apply to this image of a water Lilly.
Click here to download a free copy of XPal 3.3. Feel free to help yourself to my other utilities while you are there.
XPal is a freeware utility that can edit and create PAL format palette files used by Xara X. The program includes support for imported bitmaps, clipboard copy bitmaps and a color dropper tool for selecting colors from a Xara X drawing window.