SEPTEMBER 2008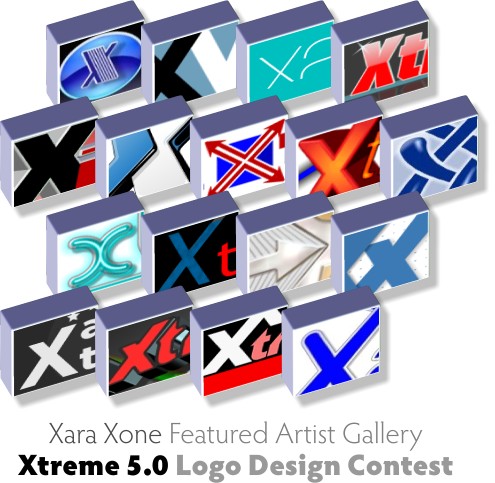 This month's featured artist gallery is the result of a contest to design a logo for the new version of Xtreme, Xtreme 5.0. This is a hypothetical contest for many reasons: We don't know what the new release will be called, we have no idea when the new version will be released, and Xara Ltd. Group and parent company Magix are not involved in this contest in any way. The contest was entirely my idea.
18 Xara Xtreme artists submitted their excellent entries, all of which are included in this show/contest. And I still have no idea what to award for a prize to the winner. But perhaps there is something in my closet of review copies of graphics software there is something that the winner may be interested in.
So, here's how the contest will work. Look at each entry. Then vote in the TalkGraphics > Extreme Conference thread for your favorite. Use the number at the top of the page instead of the designers name. Vote for your favorite design here.
Any questions?

Xara makes several graphics products and all of them are fun and easy to use. And Xara makes this site possible so it would be nice if you just went to these pages and had a look see. Thanks.

You are probably aware of Xara Xtreme but have you downloaded Xara Xtreme Pro? All the tutorials in this Workbook are done in Xtreme Pro, so if you don't have it, get it now.
Here are some other products made by Xara and links to the Xara.com Website.
©2007 Gary W. Priester
All art is copyright of the artist and may not be used or reproduced in any form without the express written permission of the author.