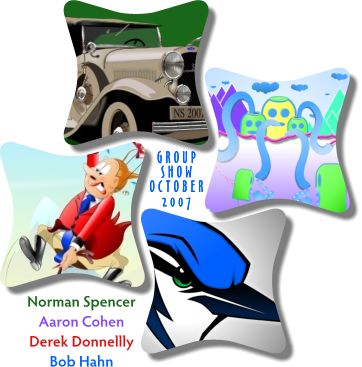 Norman Spencer - Hello folks. My name is Norman Spencer, better known perhaps as Parahandy. I became interested in drawing/art pretty late in life. I am now 85 years young. I used to draw pictures in DPaint for retransmission on Slowscan Television via Amateur Radio.
My pictures were simple cartoon like characters which suited that media. Ah! but then I bought Xara, for a long time I did not quite grasp how to use it, in fact I used to write private E-Mails to various members on the forum to see if they could help me get started, they sometimes were not very clever with it either, it was Spondulix that pointed out that I should look at the tutorials. Slowly but surely and with observing how others did it and help from other members, too numerous to name and a bit of intuition got the hang of it. So here is some of my work mostly cars (thanks to Ron)
I hope you like it .
Aaron Cohen - I'm a 19 year old student from Hacienda Heights, California. About two years ago I discovered Photoshop and it enthralled me. As a musician I had never used art to express myself so this was an incredible transition for me. About 6 months after that I discovered Xara and my infatuation grew.
Since then I've designed and created a clothing line, fer dang, that launches Oct. 31st! www.ferdang.net and www.myspace.com/fer_dang
You can also visit my blog to see some more of my art! www.eaaroncohen.blogspot.com
Derek Donnelly - I am 46 years old and an HGV driver. I am married with a 9 year old son. I am from Campbeltown on the west coast of Scotland but I now live in the North East of England. I joined the army when I was 16 and served for 17 years. I always had ambitions to be an animator and applied to go to college. Unfortunately my acceptance to Glasgow College for animation arrived 3 days after I joined up. I mainly draw as a hobby however I do receive many requests for freelance work and I'm always happy to oblige. These drawings were done using Xara Xtreme as I find it versatile and very easy to use.
You can visit my website www.tynetoons.com/
Bob Hahn - Hi, my name is Bob Hahn, I'm single, and I'm a Xaraholic.
I was born, May 7, 1970 in southern Ontario, Canada, where I still live today.
I have had no special art training, just whatever one learns in high school. Funny, I still have all my old report cards from school. In one with the teachers comments, she wrote, "Bobby seems to have developed an artistic flair this term, producing several excellent pieces of art work." That was in 1978, I was 8 years old then. So I guess I always had an interest in drawing. I wonder though if it was the drawing and creating I liked, or the reactions one could get from doing something good. I think it's a bit of both.
For more images, visit www.hahn-artwork.com/ & www.xaraxone.com/FeaturedArt/aug06/
---

Xara makes several graphics products and all of them are fun and easy to use. And Xara makes this site possible so it would be nice if you just went to these pages and had a look see. Thanks.
You are probably aware of Xara Xtreme but have you downloaded Xara Xtreme Pro? All the tutorials in this Workbook are done in Xtreme Pro, so if you don't have it, get it now.
Here are some other products made by Xara and links to the Xara.com Website.
©2007 Gary W. Priester
All art is copyright of the artist and may not be used or reproduced in any form without the express written permission of the author.