NOVEMBER 2008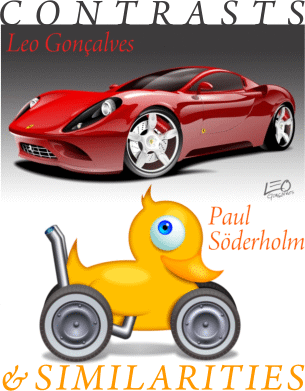 This month we feature the work of two exceptional Xara artists
in a show we are calling CONTRASTS & SIMILARITIES.
Both artists work in very different styles
and yet, as you will see, there are many similarities as well.
Leo Gonçalves I am Brazilian. I was born in the state of Minas Gerais. I started drawing when I was small. Everything I know today I pretty much taught myself. I did not have teachers, so I learned to draw by myself and later entered the profession of graphic design and illustration in Brazil. I won some bids for printing, postage on postal, work for magazines and graphic design in general. I am specifically a designer and an illustrator. I am married and have a daughter. For the last two years, I have devoted myself to working with Xara Xtreme, as you can see the work posted here.

www.leogoncalves.blogspot.com
www.leogoncalves.deviantart.com

Paul Söderholm lives in Raisio, Finland. He is a graphic designer at the oldest Finnish newspaper (Åbo Underrättelser, 184 years old). With a background in computer science. Paul has provided his illustration and design services on the side since 1995 and his trademarks are the gnurf cartoon characters and digital rubber ducks. His favorite tools are pen and paper, Xara Xtreme and Photoshop, but is an experienced user of many less popular tools as well.

www.gnurf.net

Xara makes several graphics products and all of them are fun and easy to use. And Xara makes this site possible so it would be nice if you just went to these pages and had a look see. Thanks.
You are probably aware of Xara Xtreme but have you downloaded Xara Xtreme Pro? All the tutorials in this Workbook are done in Xtreme Pro, so if you don't have it, get it now.
Here are some other products made by Xara and links to the Xara.com Website.
©2007 Gary W. Priester
All art is copyright of the artist and may not be used or reproduced in any form without the express written permission of the author.