NOVEMBER 2007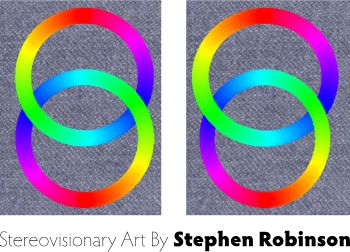 A collection of images that when viewed as Stereograms
produce an amazing impression of 3D.
Stephen L. Robinson is an ex-software engineer (real-time embedded systems) ruined by being promoted and is now an engineering manager for a hi-tech company in Clovis, California . In his spare time he sings professionally with an a-cappella group, is an award winning arranger, reads a lot and plays with Xara.
Stephen became interested in Stereograms when he saw one in the back cover of a science fiction magazine. The optical illusion fascinated him and he wanted to figure out how it was done. Stephen has always been fascinated by the tricks our minds play on us. Optical illusions of all sorts are fun to play with and the 3-D illusion of Stereograms is a lot of fun to fool with.
Stephen says he can't remember where, or when, he latched on to Xara. He uses it for virtually all of my publication needs and illustration. Occasionally, Stephen likes to get an illustration magazine from "that other" illustration program and see how hard it is to duplicate their effects. He can almost always duplicate them and, frequently finds it easier and has fewer steps in Xara.
Stephen was born, raised, and continue to live in Fresno, California.
VIEWING NOTE: Those visitors who can see Stereogram images will have no problem seeing the 3D effect. For those who are 3D Stereogram challenged, stare at the two images above. Relax your eyes and see if you can make the two images into three. If this happens, you will see the 3D effect.