November 2006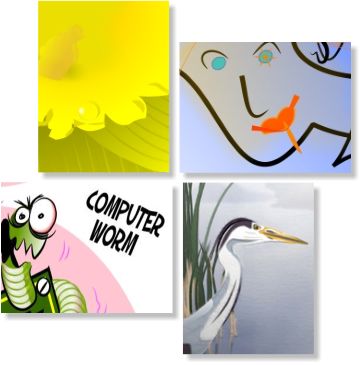 (Clockwise from top left) Raymond Breakspear, Finn Boettcher, Peter Windmill, Zeb
This month we feature four very different artists with four very different styles. Each artist is an example of the versatility of Xara Xtreme.
THE ARTISTS:
Raymond F. Breakspear (Intbel)
UK
"Can't is not an option"
Raymond lives in the U.K. and has been using Xara products for several years though he bought it solely to produce animated gifs, particularly from photographs, for which Xara Xtreme is probably the most efficient programme.
"I was always aware that Xara is a first class drawing application and I admired the work achieved by others. But this was something 'other folks' did.
"Necessarily seeking a new career I decided to explore this avenue and thanks to the exceptional tutorials and examples which ship with Xara plus sound help and advice from the Talk Graphics forum, made rapid progress.
"My first attempt at a serious illustration was in July this year, just four months ago. This demonstrates how quickly the basic techniques may be learned and a small degree of expertise acquired."

Contact Intbel
---
Finn Boettcher
Aarhus, Denmark

Certified photographer
Diploma Specialized Business Studies | marketing
Supplementary studies, DTP, Sound/Video, commercial art
Visual communication and then some - I'd say that's my name of the game.

I love the arts - and I get my juices goin' looking at visual artistry, architecture, interior decorating, and listening to music.

I do logos, graphic identity programmes, postcards, posters, flyers, web-design, and shoot photos.

Off-the-record: Luv dogs, nature, biking, nice food, italian ice-cream, Audi R8, Jack Daniels, The Flintstones, travelling, keeping fit - and eh.. - beautifull women...

Want more - visit studio21st.com
---
Peter Windmill
Norwich, England

I trained as a Civil Engineer and was introduced to AutoCad in the 1980's. When I decided to go part-time and take up artistic pursuits, vector graphics seemed a natural way to go. I live in a very scenic part of England and enjoy making artwork for greetings cards and framed prints which sell widely in the local area.
---
Zeb
Guadalajara, Mexico

I am a missionary living and working in Mexico. My primary job is illustrating children's publications which I have been doing for 39 years.

About 7 years ago I stumbled on Xara X, now known as Xtreme. Since then, I packed away my bottle of india ink, red sable brushes and pigment pens, got a Wacom tablet and now do all my final artwork with Xtreme.

For more examples and info, visit my site zebtoonz.com