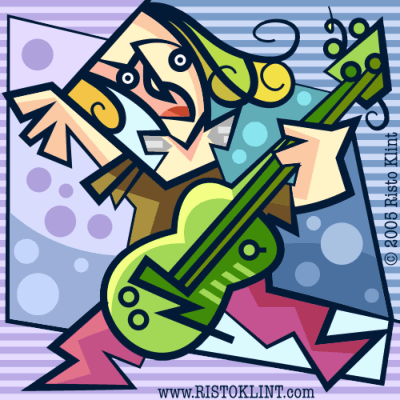 I still live in Montreal, and still draw with Xara X1 and Extreme.
2006 will be a year of many challenges, but I'm looking forward to them. For the last two months or so, I have kept busy preparing and figuring out exactly where to pour in the most energy. And of course filling up my Ask Dog Drawings "quickie" drawings and Ristoons.com with imagery and commentary...? (that will sooner or later result in the threat of a libel lawsuit… ;-) ) Both sites are in the process of being fixed in terms of structure, and I hope to have both sites jam-packed by the end of the year.
All these "March" images here were done when recovering from reconstructive knee surgery, so if something seems more "off" than normal… I will blame it on the painkillers! Many of the illustrations here are experiments (people that know what they are talking about would call them "studies" ) but I still hope that you will find one or two of them fun to look at.
Gary, thanks for giving me the opportunity to show these images on The Xone and all the hours you pour in to your tutorials, and helping people on the Talkgraphics.com forums!
A big thanks also to the team at Xara Ltd. that makes Xara X and Extreme what they are! Never in my wildest imagination did I think that a piece of software would do such amazing things for me. Accidentally stumbling upon the "Target Practice" tutorial and free trial download of Xara X truly has been wondrous. To say that it has paid for itself would be the understatement of the century!
My main Illustrations site is still alive and well… but is in serious need of a makeover. Deciding what to do with this site and my new illustrations (to come…) is something that I will figure out in 2006.
I hope Xara Xtreme will do wonders for you also!
—Risto Klint
Montreal, Canada