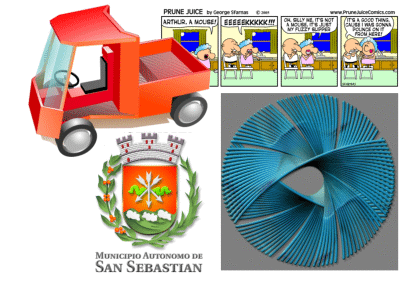 (Click image to enter the Gallery)
This month we feature 4 Xara artists and designers in a Featured Artist Group Show. We feature four artists with four very different styles. A testimonial to the talent of each of our four artists and the versatility of Xara Xtreme.
If you would like to participate, see the instructions at the bottom of the page.
Chris Johnston was born in Edinburgh in 1947, and after spending his schooldays there, moved south to England to Leeds, Leicester, and Crewe, where he spent a couple of years in Rolls-Royce Car Company, before returning north to train as a teacher, and get married. Along with his wife, he has two daughters, an original style Mini, and an aged Labrador.
His teaching has been in both Art and Product Design. Chris's involvement with computers started in the 80s after the arrival of BBC 'Acorns' onto the British scene, and he still uses an Acorn 'Risc PC' alongside his rather more modern Microsoft edition.
Most of Johnston's drawings are design orientated, and are used to promote or progress ideas towards becoming objects, with some used with pupils, and others to further his own 'inventions', prior to building their 3D equivalents, or just dreaming on.
His addiction to Xara, stems from his liking for Art Works software, from the same source, but on his old Acorn.
George Sfarnas I am a cartoonist and animator. I have supplied artwork to many clients over the past 15 years, including Southeast Toyota, Prudential Realty, Cruise One, The Children's Services Council and many others. My cartoon panels and comic strips have appeared in publications worldwide and across the Internet. Xara X1 is the drawing software I use. After importing scanned pencil drawings, I use X1's excellent Shape Editor Tool to recreate the pen and ink style that I used to do by hand. Xara X1 is like my studio within my studio. It is an excellent program that keeps getting better.
Roy Steward I am 40 years old and have worked with computers for the last 14 years. I run a business in retail PCs and have been using Xara for around 6 years. I started using Xara to create flyers for the shop. Then I really got into the vector element and started using repeated lines and then molding these shapes. My earlier version of Xara could not handle this all the time. But since I got Xtreme it has managed pretty well most of the time. I call my images "Precision Art." I got some of my ideas and inspiration from M. C. Escher. I have a fascination with net designs.
Lionel Valentin I was born 60 years ago in Añasco; a small town in the West Coast of Puerto Rico. I studied Fine Arts at the University of Puerto Rico and after 16 years of teaching and as a cartoonist for El Nuevo Dia Newspaper and the Editors Press Services I decided to go on myself and started a small design firm that eventually developed in a Printing Shop, the one we (my son and I) are running now. We accept files in all of the main software. My hobby—when I have some spare time and really I didn't know there was spare time, is painting and listening music and making drawings in XARA. I am self taught in computers, where I spend most of the time designing brochures, adds, magazines, books, posters, logos, business cards, letterheads and all the stuff that my clients want.
Xara Xone Featured Artist ©2006 Gary W. Priester
All images are © by their creators and may not be
copied or reproduced in any manner without
the written permission of the artist
XARA Artists Wanted! We are always looking for new artists to feature on this page. If you would like to be considered for one of the future featured artists Group Shows, Click Here to contact us. Send one or two JPEG or GIF images, about 600 pixels wide. And please keep the file size under 100K. Add Xara Group Show to the Subject line of your message. Only artwork created with Xara products will be considered.
The Xara Xone ©2006 Gary W. Priester All rights reserved.