JANUARY 2008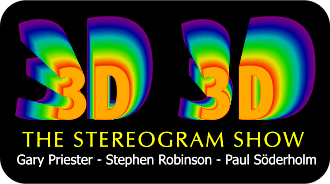 We kick off 2008 with a three person Stereogram gallery. The Stereograms featured represent a range of style and types. Many contain hidden 3D images and others use fully visible objects than when viewed as a Stereogram give the appearance of 3D (the two 3Ds above are an example of this). For an in-depth explanation of how to view Stereograms and how they work, visit the Stereogram Guide page. All of these images are designed to be viewed in parallel mode, without crossing your eyes. If the hidden 3D images appear to be going in instead of popping out, you are probably viewing the images with crossed eyes.
For those who are interested in learning how to create your own Stereograms see January - 2003 - A 3D Hidden Image Stereogram, and February 2005 - Creating a 3D Hidden Image Stereogram and Workbook 9 - A Floating Object Stereogram.

Xara makes several graphics products and all of them are fun and easy to use. And Xara makes this site possible so it would be nice if you just went to these pages and had a look see. Thanks.
You are probably aware of Xara Xtreme but have you downloaded Xara Xtreme Pro? All the tutorials in this Workbook are done in Xtreme Pro, so if you don't have it, get it now.
Here are some other products made by Xara and links to the Xara.com Website.
©2007 Gary W. Priester
All art is copyright of the artist and may not be used or reproduced in any form without the express written permission of the author.